Learn How To Visualize Your Goals In 3 Simple Steps.
A step by step guide on how to visualize your goals for your major life projects.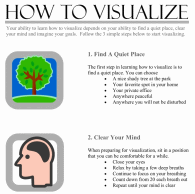 Identifying and clearly defining your goals is the most crucial step in successfully completing a major life project. If you are not sure what your goals are on a particular life project, you can use visualization to help you to identify them. Your ability to learn how to visualize depends on your ability to find a quiet place, clear your mind and imagine your goals.
WORKSHEET: Visualization Worksheet - Screenshot | Download
How To Visualize Your Goals
Find A Quiet Place
The first step in learning how to visualize is to find a quiet place. You can choose your favorite spot in the house, a nice shady tree at the park or anywhere that you know that you can sit peacefully and not be disturbed. A quiet place is essential to having a good visualization experience.
Clear Your Mind
Once you have found a quiet place, it's now time to relax and clear your mind. When preparing for visualization, sit in a position that you can be comfortable for a while. Close your eyes and relax by taking a few deep breaths and clearing your mind of all thoughts. If you have trouble clearing your mind, continue to focus on your breathing and count down from 20 each time you breathe out. Repeat this process until your mind is clear. Learning how to visualize often requires practice.
Imagine Your Goals
Now that you have learned how to clear your mind, it's time to learn how to visualize your goals. Visualize all the details of the final day of your project. Imagine what it feels like, what you are wearing and who is present. Visualize as many details as you can. Once you have visualized the details, write them down or create a collage of pictures representing your ideas. The ideas that you come up with should represent your ideal outcome. Your ideal outcome now becomes your ultimate goal for your life project.
When you learn how to visualize your goals, you begin the first phase of successfully completing a major life project. Start you visualization experience with a quiet place, clear mind and open imagination and you can successfully identify your goals. Focus on the goals of your life project and you can successfully complete your project. Visualization is an opportunity for you to really think about what will make you happy at the completion of your major life project so have fun with it and dream big!